LIVE IN A BODY YOU LOVE
Whether you're a complete beginner or you want to step up your routine, get the complete studio experience at your fingertips with effective & challenging flows for all levels.
A PRIVATE PILATES STUDIO IN YOUR HOME
Encompassing the best of Classic and Inspired Reformer, Mat Pilates, Tone, Pregnancy, HIIT, Barre and MORE, along with helpful technique and stretch classes for a blended exercise program that's challenging, fun and effective.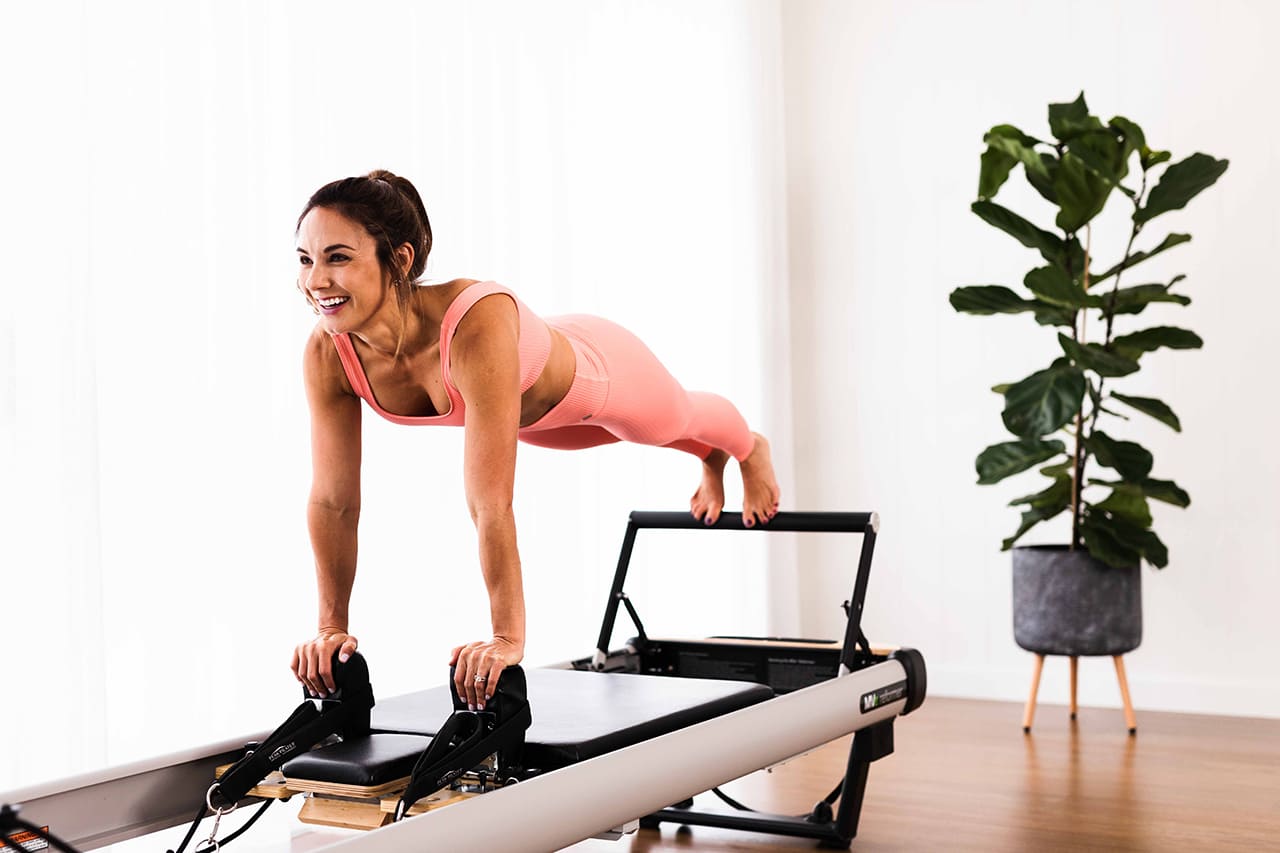 AVAILABLE ANY PLACE, AT ANY PACE
Beautifully choreographed transitions for wherever you are and anywhere you go with our easily accessible mobile app.
We put your favourite classes at your fingertips.
Designed to help you discover what moves YOU
Achieve your personal wellbeing and fitness goals by discovering your preferred workout style – with or without equipment.
300+ Workouts

12 Class Categories

3 Intensity Levels

5-50 minute Classes

NEW Classes & Schedules Weekly

350+ in-App Recipes

Weekly Meal Plans & Shopping Lists
Then $4.98/week on a yearly plan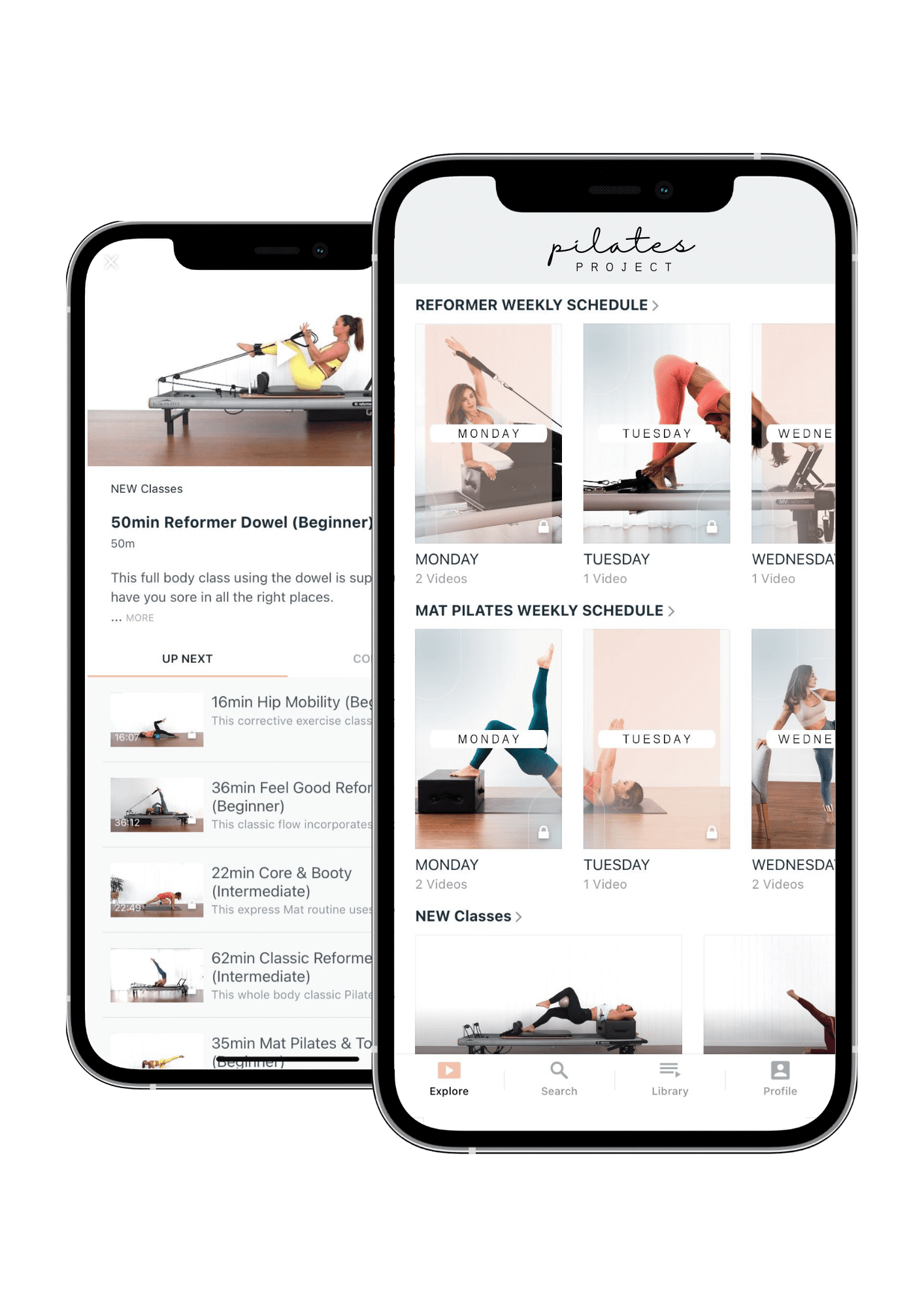 Find what moves you
With THOUSANDS of exercises, HUNDREDS of routines, ELEVEN Class Categories, THREE Levels of Difficulty and Weekly Schedules for REFORMER & MAT PILATES, you're bound to find what moves you on Pilates Project.
Pilates. Anywhere. Anytime
Beautifully choreographed transitions for complete beginners, through to practiced instructors from your desktop, mobile or tablet.
Sort classes by style, difficulty, duration, equipment or body part to suit your mood and schedule.
Follow along with my Weekly Schedules, stick with your favourite classes, or find something new to try every day.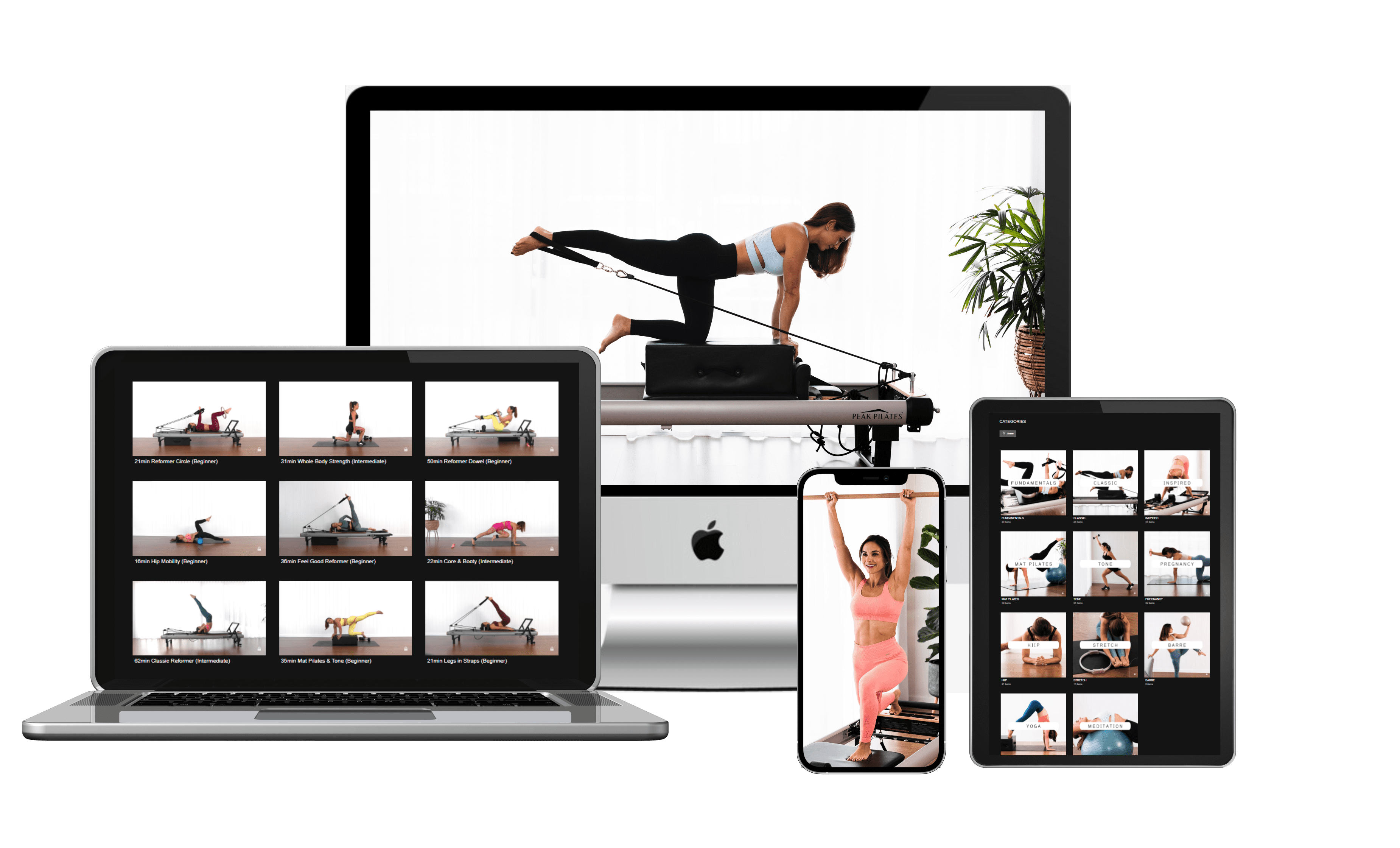 Healthy Eating Made Easy
Dietitian approved meal plans and shopping lists to suit your goals with hundreds of delicious recipes to choose from.
CLAIM YOUR FREE COOKBOOKS & 7-DAY FREE TRIAL
Start your free trial right now and get INSTANT ACCESS to your complete studio experience, a FREE Cookbook, BONUS Smoothie Recipe Pack and an all-in-one app that will supercharge your wellbeing.
What's all the fuss about
See how others have improved their wellbeing, strength and fitness with Pilates Project.
"Girlllll you just keep creating the best burn everytime. I just love your workouts. My clients don't 😂 but I do. Such a game changer. #Beast"
Jennifer M
Connecticut, USA
"I got told the other day "Oh Pilates is just expensive stretching". I think they need to do your classes 😂"
Jodie H
Western Australia, AUS
"Loved this so much. So nice on my weak back from a chronic shoulder issue. I can see this really being something I can trust to revisit and not cause reinjury."
Katie R
Devon, UK
"The compound exercises make this short, sweet, and very effective. Saving this one for a quick workout while my baby naps!"
Kathleen M
Minnesota, USA
"As an Instructor, we sometimes need the push and I'm loving what I see with the program. I'll be sticking around... 100%."
Samantha C
London, ENG
"Gosh I am so glad I discovered you. I've been so unmotivated after teaching clients all day. It's like having you right here with me."
Coleen T
Vermont, CAN
"Wow excellent workouts - I can't wait to get better at it."
Nina M
Alberta, CAN
"It was my first time doing Reformer, it was awesome ! And you are too ❤️"
Soraya M
Ontario, CAN
"Gosh I am so glad I discovered you. I've been so unmotivated after teaching clients all day. It's like having you right here with me."
Coleen T
Vermont, CAN
"I've done Pilates for 11 years and that was the best tutorial of these concepts I have experienced."
Dona H
Hofheim , GER
"Such an awesome class. I just downloaded the app and these are the Pilates workouts I've been searching for!!!"
Sandie G
Texas, USA
"I was having some right lower back pain so I decided to do this and I feel soooo much better for it."
Brigitte D
Nova Scotia, CAN
"Just wanted to let you know I love your program. It's the perfect blend of Pilates. So happy to have stumbled across your page."
Katie L
Dublin, IRE
"So good for my mobility after radiation and cancer therapy. It feels so good! Really great!"
Yelena F
New South Wales, AUS
"Just joined the free trial and I'm hooked. The instructors are very informative and the classes are so diverse. I love it!"
Katie L
Dublin, IRE
Start Your 7 Day Free Trial!
Join us and experience everything Pilates Project has to offer for 7 days with no strings attached. Then as little as $21/month - that's less than one Studio class.
SUBSCRIBE NOW
Don't miss a thing!
Sign up to our mailing list to receive exclusive offers, helpful tips, weekly training schedules, updates from Maghan AND go in the draw to win a 12-month Pilates Project membership!